---
How much does the Florida Kids and Family Expo Cost?
Advanced Online Tickets are $6 each (ages 3+).
Tickets at the door are $15 each (ages 3+).
Most activities and interactions are included, but a list of those (and extras are below).
Where can I purchase tickets?

Does it cost to park at the convention center?
Yes. But, it is discounted to $10. We wish it was free too!
What's included with admission?
While some activities, bounce houses, attractions will have a nominal fee to participate (see below), there is more free fun to enjoy that you can accomplish in a day!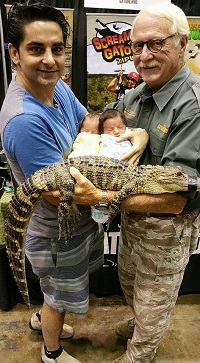 150+ Exhibits – INCLUDED!
Animal Interactions – INCLUDED!
Arts and Crafts -INCLUDED!
Product Samples -INCLUDED!
Laser Tag -INCLUDED!
Sports Zones Fun -INCLUDED!
Food Samples -INCLUDED!
Stage Performances – INCLUDED!
Giveaways and Prizes – INCLUDED!
Puppet Show – INCLUDED!
Character Meet and Greets – INCLUDED!
Wrestling Shows – INCLUDED!
Baby Zone – INCLUDED!
Touch-a-Truck – INCLUDED!
Live Stage Performances (2 STAGES) – INCLUDED!
Aerial Act Performances – INCLUDED!
---
What is an additional cost?
We work to include as much as possible with every admission, but some experiences have hard costs that can't be made up by low attendance fees, so there are additional nominal fees.
MENU OF OPTIONS
Bounce Houses & Attractions
4 Attractions & 4 Bounce Houses
Unlimited Wristbands
$10 Each
*This fee covers rental, staffing, electric, and donations to New Hope for Kids.
Petting Zoo
The Petting Zoo is free for kids to enjoy
Food for Animals
$1-2 Each
*This fee covers the cost of the food.
Train
A ride of the electric train
$3-5
*This fee covers power, staffing, and transportation of the train.
Pony Rides
A ride on a pony
$5
*This fee covers transportation on ponies, feedings, staffing, and housing.
Those are the only fees we're openly aware of.
Other
There may be additional fees should you choose to engage with:
Face Painting, tattoos, toys, books, additional products, tickets to venues around Central Florida, additional services.
*This is a 2-day buying event for families if you find products, services, entertainment, etc. that would enrich your family.
Will there be food for sale?
Yes. There will be some samples of food, but food will be available for purchase through CenterPlate Catering Karts. These karts are not associated with the expo, but are provided through the convention center.
Can I bring snacks and/or drinks?
Yes. As with the theme parks, if your kids/family need to bring their own waters/drinks and/or snacks, this will be permissible at this event.