---
2018 Florida Kids and Family Expo
August 18-19, 2018
Orange County Convention Center | West Concourse | Hall D
Saturday 10 AM – 5 PM  |   Sunday 11 AM – 5 PM
150+ Exhibitors | 15,000+ Attendees | 150,000+ Square Feet | Endless Smiles!
---
How much are tickets?
Advanced Tickets are $5 each.
Tickets at the door are $10 each.
---
Where can I purchase tickets? Right HERE!
---
Get a FREE Chick-fil-A Kid's Meal on Saturday!
---
**When you purchase your tickets in advance for Saturday, August 18th, you will be eligible for a FREE KID'S MEAL from Chick-fil-A located at 7333 W. Sand Lake Road in Orlando. This offer is good ONLY for each PAID child's ticket. If you want to take advantage of this offer, you MUST PRINT your child's tickets. Those
tickets will be surrendered at Chick-fil-A upon ordering. MOBILE TICKETS WILL NOT BE ACCEPTED.
If you purchase your tickets at the door, at the expo, we will provide you with a ticket to turn in for your free meal. If you've won or received free tickets to the expo from a sponsor or exhibitor, you are NOT eligible for this offer. ONLY the Sand Lake location is participating in this offer and the ticket must be turned it at that location only.
There are two ticket types that will award you with the free Kid's Meal: 1. Your printed ticket purchased online or 2. A ticket given to you at the expo at time of on-site purchase of expo tickets (with a Chick-fil-A logo). No other "tickets" will be accepted for this offer. There are no exceptions. Thank you for your understanding.
---
Why should I attend?
If you're looking for ideas and information to enrich your family's lives in Central Florida, this is the event for you. While your kids are making things, trying new things, playing, bouncing, picking up free stuff, sliding, riding, discovering, creating, watching, running, eating and more, you can capture new ideas and opportunities for your kids and family. It's an indoor, air-conditioned event, which is perfect for August! As your kids head back to school, find all of the resources that are available to you in your own backyard! For less than the cost of going to the movies, you can enjoy a fun family day together!
---
Click here for a background look at the Florida Kids and Family Expo.
---
Where is the Orange County Convention Center?
It's located at 9800 International Drive in Orlando (see driving directions button above for more information on getting to the convention center). A short drive from anywhere in Central Florida. Bring your strollers, wear comfortable shoes and come to play!
---
What is the Florida Kids and Family Expo?
The Florida Kids and Family Expo was created in 2014 by Central Florida moms that have lived and worked in our community for decades. A teacher, business owner, and employee, our team was always so busy working, they didn't know what opportunities were available in their own community. So, they created MyCentralFloridaFamily.com and the Florida Kids and Family Expo to help other families discover what's possible each year!
The Florida Kids and Family Expo brings approximately 150 pre-natal, baby, toddler, kid, teen and family exhibitors together with products, services and opportunities to enrich your family. From free trials to coupons, discounts and giveaways, not only will you discover new ideas, but you'll also be able to try them out for free or save money along the way! The exhibits are free to interact with, from animal encounters to product trials to character meet and greets and so much more.
The Florida Kids and Family Expo is your annual opportunity to discover what Central Florida has to offer moms-to-be, babies, toddlers, kids, teens and families. Beat the heat and get indoors for some epic family fun while discovering new ideas and opportunities for your family.
Come enjoy over 150,000 AIR CONDITIONED square feet of everything for pre-natal moms, babies, toddlers, kids, teens and families! 150 Exhibitors. LIVE PERFORMANCES all day, both days. Interactive stations. Attractions. Bounce Houses. There is so much going on…we simply can't list it all!
---
What are parents saying
?
We can't list them all, but here's a sample:
"Thank you to everybody who made the Florida Kids and Family Expo possible. My kids had an absolutely terrific time and want to come back "everyday!" Even my husband and I were talking about what a great time we had. It was the perfect way to spend the day with the kids…you guys thought of everything!!! Thank you! Thank you! Thank you!" –Sehia Q., Mom 
"We had such a fun time yesterday! We never ran out of things to do." -Molly L., Mom 
"One of the best events we have been to." -John B., Dad 
"We had a blast today and got so many great resources for this newly moved in family! Thank you!" -Jara V., Mom
---
What are just SOME of the things you will experience?
We strive to make as much included with admission as possible, but there will be some additional costs such as attractions and bounce houses, food, and more. We'll have all of the details for you as we get closer to the expo. Exhibitors may offer separate experiences and may charge for those opportunities such as face painting, train rides, tattoos, etc.
You've seen them on America's Got Talent…now, see them HERE!
The Menestrelli Circus Dog Show will be at the 2018 Florida Kids and Family Expo! Be sure to come out and see them in person.
---
Just Added…
Laser Tag Zone!
Live Wrestling Ring
Touch a Truck
---
Character Meet & Greets
Interact with exhibitors!
Check out the performances!
Interact with animals!
Sample something new.
See something magical!
Climb inside a SWAT vehicle!
Get a lesson in dueling!
Learn something new!
Have your face painted.
Bounce off the walls.
Enjoy Attractions.
Play Soccer.
Play Golf.
Ride a Train!
Ride a pony!
Play with the Orlando Magic.
Win Something.
Get your science on!
Enjoy free samples!
Check out the Aerial Acts!
Enjoy Arts and Crafts!
Check out the Puppet Show!
Visit our Balloonist!
Get into Knockerballs!
Let the force be with you!
Get hands on!
---
Frequently Asked Questions
How much are tickets? Are tickets more at the door?
Tickets in advance online.
All tickets are $5 each
Little Ones (0-2): Free
Tickets at the door.
All tickets are $10 each
Little Ones (0-2): Free
**On Sunday, after 2 PM, we're offering 50% off advanced entry tickets for those families working on a more fixed income that still want to experience this event. Tickets MUST be purchased at the door after 1:45 PM on Sunday. We want all families to enjoy this event and all that it brings.
*All tickets are non-refundable.
---
 What prizes will be awarded?
We have giveaways from some of Central Florida's favorite attractions. Some will be given away through our Facebook page. You can check our Contest Page on our site with more opportunities to win. Others will be given away the weekend of the expo. By registering at the door or in advance online with your ticket purchases, you will be automatically entered to win. Listen for your name as you enjoy the expo!  Below are some of the giveaways (Family Four Packs) we have or expect for the 2018 Florida Kids and Family Expo:
One Month Class from Sound Stage 4 TV & Film Studios
---
How much is parking?
Parking is discounted to $10 per car. We wish it was free too!
---
Can I bring something to eat?
Certainly. If the kiddos are hungry, there will be many food carts available, but you are welcome to bring treats and snacks as well.
---
What's included with admission?
While some activities, bounce houses, attractions will have a nominal fee to participate, there is more free fun to enjoy that you can accomplish in a day!
150+ Exhibits – INCLUDED!
Animal Interactions – INCLUDED!
Arts and Crafts -INCLUDED!
Product Samples -INCLUDED!
Laser Tag -INCLUDED!
Sports Fun -INCLUDED!
Food Samples -INCLUDED!
Stage Performances – INCLUDED!
Giveaways and Prizes – INCLUDED!
Puppet Show – INCLUDED!
Character Appearances – INCLUDED!
Wrestling Shows – INCLUDED!
Baby Zone – INCLUDED!
Touch-a-Truck – INCLUDED!
We're working on more experiences too!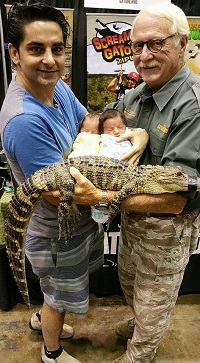 ---
 Will there be changing rooms and nursing stations?
Yes. We've added a covered area for changing rooms and nursing stations. Just be sure to check your program map for their location.
---
Can we bring strollers?
Yes. The floor is cement in the exhibit hall for easy stroller pushing!
---
---
As one mom put it, "My daughter and I had an AMAZING TIME!!! SO THANK YOU FOR THE AMAZING DAY!!!" –Stephanie J., Mom
The goal of this expo is to put you in front of companies, schools, and organizations that can enrich your family in our community. From discovering new opportunities to trying new products to uncovering new ideas, this annual event will allow parents to learn new things while allowing their kids to have fun for the day. It's all meant for your Central Florida family!
We look forward to seeing you there.
---
---
Thank you to our 2018 Sponsors and Partners:
---
2018 Presenting Sponsor
---
---
2018 Gold Sponsors
---
---
2018 Silver Sponsors
---